... The Mysterious Parcel Receipt ...
These scans show a "bulletin d'expedition" for a parcel from France to Sofia. The parcel was sent from Sarregue-Mines 16.07.1927 via Basel, Vienna and Maribor to Sofia. But what happended in Sofia with this parcel? Why 2 Leva Sunday stamps? Why the extra charge with 3 Leva fiscal stamp? Very rare is also the cancel of 11.08.1927 - "Sofia - Post office at the custom's".
Scroll down the page to see the explanation!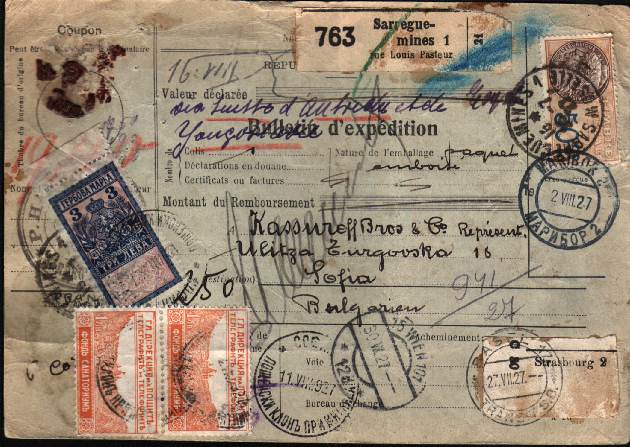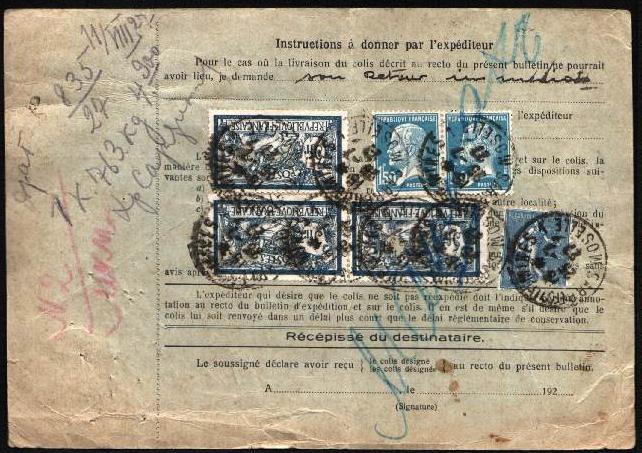 The route for Bulgarian postal parcels to and from Western Europe was fixed in an international contract of 1925, with transit through Serbia, Austria and Switzerland. The shown receipt was posted in France - Sarregue-Mines 16.07.1927. It was sent via Basel/Switzerland (27.07.27), Vienna/Austria (30.07.27) and Maribor/Serbia (02.08.27) before arriving in Sofia on 11.08.27 (in the Post Office at the Custom's).
The custom's charge for a parcel was 3 Leva paid with fiscal stamps (The author has a photocopy of a similar document for 2 parcels paid with 2x3 Leva fiscals). The parcel was picked up by the recipient on 14.08.1927. This was a Sunday according to my Weekday Calculator, and it was therefore charged an additional 2 Leva with 2x Sunday stamp Mi #5 (The author has a photocopy of a similar document with 2 Leva Sunday stamps on another parcel receipt). Thus we might conclude that parcels sent or received on a Sunday was charged extra with 2 Leva Fond Sanatorium stamps.
---
This page made in cooperation with N. Penev, Bulgaria.

---