... The Bulgarian Star Cancels ...
Last updates: Star cancels used WITHOUT date cancel on PS #01 and postcard with Mi #46.

The Bulgarian star cancels ("dump cancels") came into use in Bulgaria at the beginning of 1881. There is no symbolic meaning of the star. The star cancels were used to cancel the stamps to see more clearly the date on the date cancel entered beside the stamp. The star cancels were used mostly for domestic mail, rarely for international mail. Very, very seldom a letter can be found with a star cancel used alone without date cancel.
First came in use the star cancel Type I which was 26.5 mm wide. The Type II cancel was used from 1889 and is smaller; 23 mm. Both types were in use up to around 1900 (Scans by N. Penev):
Some major post offices used combined cancels that were bound together, called Daguin cancels: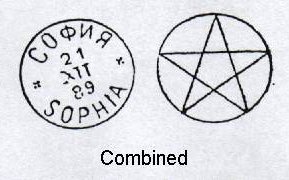 ---
Daguin machines were used in Sofia, Roustchouk and Philippople in the following periods (dates subject to change):
Sofia:
Earliest known: 19 March 1891
Latest known: 25 July 1895
Roustchouk
Earliest known: 4 September 1892
Latest known: 6 November 1892
Philippople
Earliest known: 15 November 1891
Latest known: 20 April 1894
---

This cover is an example of correct use of the star cancel; to cancel the stamp itself and put the date cancel besides the stamp to better see the date. Note that since this cancellation from Sofia most likely was made with a combined Daguin cancel as shown above, the clerk had to cancel with the date upside down since the stamp was placed at the left side of the envelope...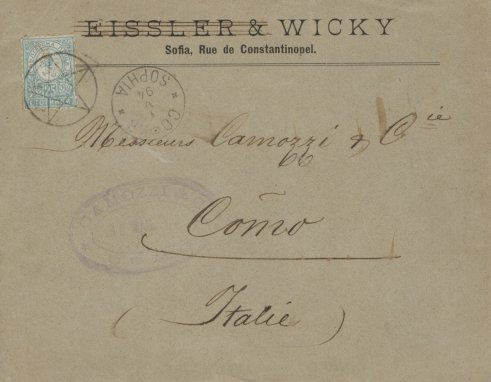 ... and here is a Daguin cancel used on an international postal stationary sent from Philippople and Sofia in 1893: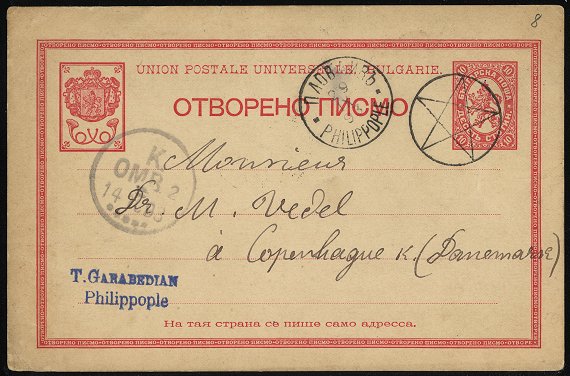 ---
Here is a sample of "wrong" use of a Daguin cancel on the first PS (Centimes) where the date cancel is placed on the stamp and the Star cancel on the side...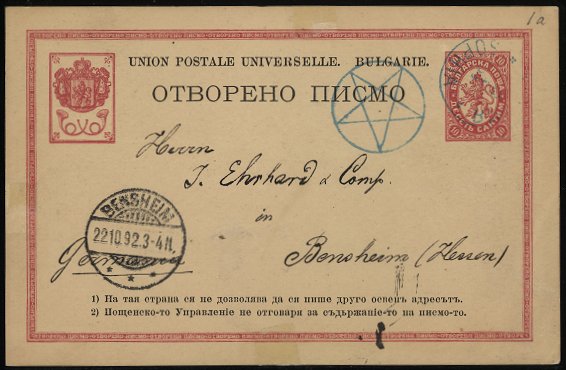 ---

This card is a very rare sample where the Star cancel is used alone without a date cancel.
According to the current postal regulations such cancellations were not allowed.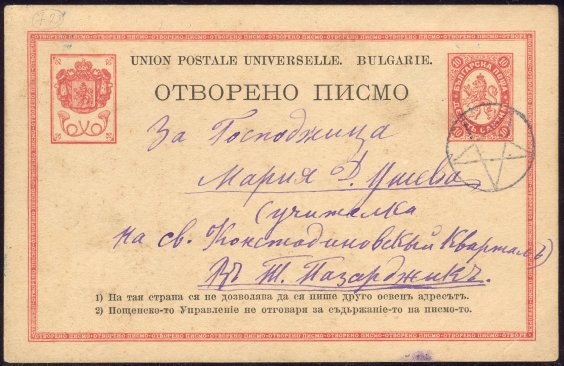 ---
This picture shows the use of the star cancel on Bulgaria #1 on an uprated postal stationary from 16 June 1881.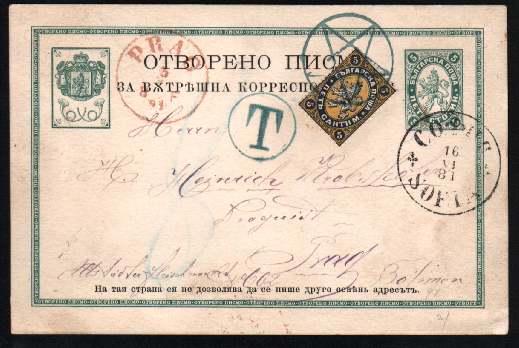 (Scan by N. Penev)

---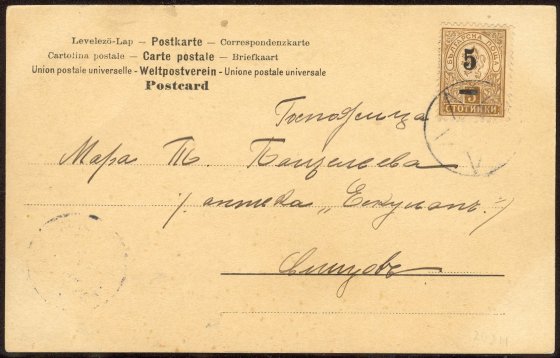 ---
This page was made in cooperation with N. Penev, Bulgaria and Ross Towle, USA.

---