... Estonian Air Mail Covers ...
Genuine or fake?
Part I: 1920 | Part II: 1923
The number of fake Estonian air mail covers on the market is much higher than I thought when I first started looking into this. It is my impression, however, that this is more a result of lack of knowledge on the part of the sellers than an actual attempt to commit fraud. Luckily (if that is an appropriate term here...) most sellers are over-optimistic and price their items so high that less knowledgable collectors stay away in any case...
Below I will show some genuine and fake covers with the first Estonian air mail stamp (Mi #14) in an attempt to educate both sellers and buyers somewhat... Most of the samples are taken from various internet auctions.
---
Background
One of the oldest regular air mail services in the world, the Estonian air mail originates from the so-called "Ice-flights" during the winter of 1920. Due to an exceptionally cold winter, the Gulf of Finland froze and made mail transport by ship impossible. This was not an uncommon situation, but at the same time the military situation in Latvia and Lithuania had interrupted all railway transport of mail to the south. Thus, the Estonian postal administration was forced to transport mail by air from Tallinn to Helsinki. The following Ice-flight mail periods are known [1]:
1920-02-07 to 03-15
1924-02-11 to 04-05
1928-02-02 to 03-31
The 1920 Ice-flights are recognized as the first North-European regular commercial air mail service. Mail carried on the first few flights was not specially marked, but from the end of February hand-written notes or cachets such as "Ohupostiga" (= "by air mail") can be found. Transit mail usually did not get a Helsinki cancellation. The last flight took place 15 March 1920, and mail transport by ship was resumed 21 March.
A special air mail fee for mail carried by this service was introduced by postal regulations 20 February 1920. The fee was 5 Marka for postcards and letters up to 15 gr. weight. This additional fee was paid by ordinary postage stamps until a special air mail stamp was issued (Mi #14). Due to its late arrival, this stamp was valid for one single flight only; the last Ice-flight 15 March 1920. There exists, however, some genuinely flown covers with the stamp also from the dates 11-13 March 1920.
The air mail stamp was used to cover the special air mail fee only, and is always found together with regular stamps that cover the regular postage (at that time the regular rate was 125 Penni for each 15 gr for international letters and 50 Penni for international postcards). The stamp was formally invalidated 31 December 1923.
Pay attention to this information and note that most covers
offered on the market are not genuinely flown!!
As far as I can tell from the scans alone, this is a genuine 1920 Ice-flight cover. It was mailed from Tallinn to Tammerfors (Tampere) 12.03.1920. On the back of the letter is a Helsinki transit cancel dated 15.III.1920, the last valid date for the Ice-flight, and a receiving cancel of Tammerfors 16.III.1920. The rate paid by regular postage stamps is 250 Penni; 125 P for an international letter up to 15 grams plus 125 P for international registration. Further indications of genuineness is the printed "OHUPOSTIGA" in the upper left corner and the (partly visible) correct type of Tallin registration cachet from 1920 [1].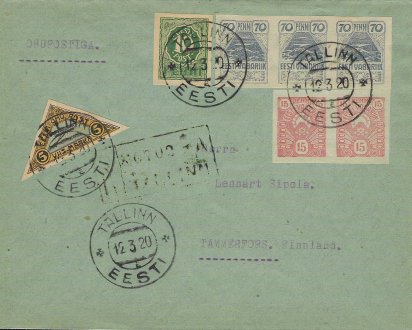 Scans by M. Willems, Holland
---
Here is an almost exact duplicate cover, also sent to Lennart Sipola of Tammerfors, Finland. It was sold on eBay for USD 213 in January 2005. Mr. Sipola was a well-known collector who obviously foresaw the value of these sendings, and took care to have multiple letters sent him on this particular date...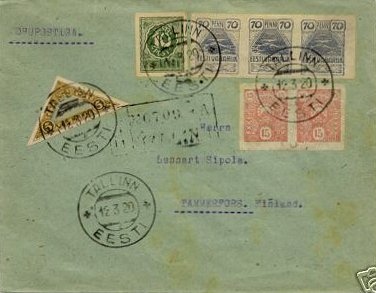 ---
- and here is a third cover addressed to Sipola.... This time with slightly different stamps (only 245 Penni!) and a less known "encircled R" registration cachet in upper left corner, again mailed from Tallinn 12.03.1920... I don't know if there are any receiving cancels on the back of this cover.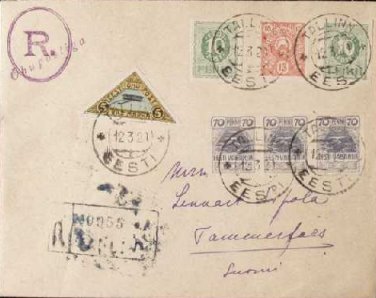 ---
This cover was mailed to Helsiki from Tallinn 8.05.1920. It has a correct rate of 250 Penni for registered international letter, and is most likely a genuine cover. However, it is not used within the correct period of validity for the air mail stamp....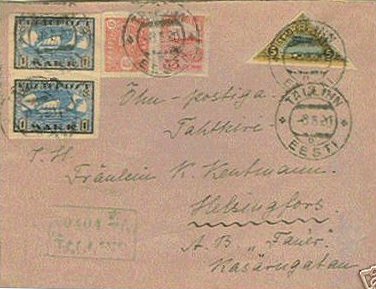 ---
This postcard was sent to Danzig from Haapsalu 26.05.1920. The postal rate was 175 Penni; 50 P for international single postcard plus 125 P for international registration. Again, by all signs a genuine card, but used outside the period of validity for the air mail stamp....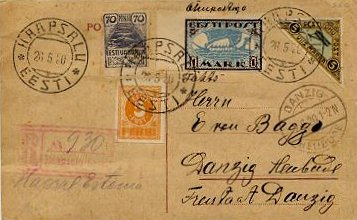 ---
This cover was sent to Link°ping, Sweden, from Tallinn 11.05.1920. 250 Penni is correct rate for international registered cover, and the cover is most probably genuine, but again outside the period of validity of the air mail stamp.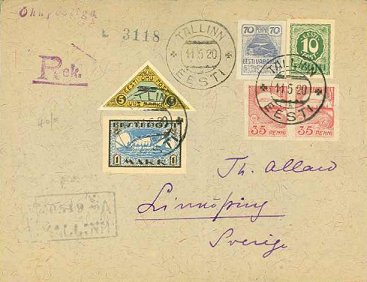 ---
This cover was sent to Boston from Tallinn 26.03.1920. It has a correct rate of 250 Penni, and is receiving cancel "New York Registry Division" on the back. Genuine cover, but again outside the period of validity.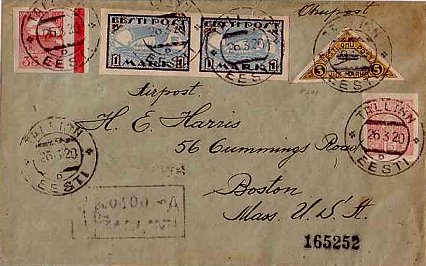 ---
---
Here's a fantasy cover I was stupid enough to purchase some time ago... First of all I should have noted the funny rate. 5 Penni was not a valid postal rate in 1920. Secondly, the cancellation date is 22.7.1920, well after the valid Ice-flight period. Thirdly, the cover seems to have a domestic address, but there was no domestic air mail service in 1920.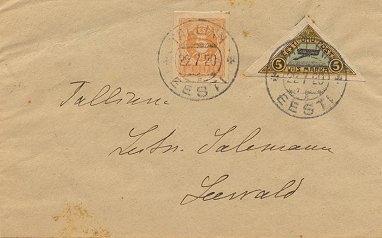 ... and this cover from eBay is an almost identical copy cancelled 26.7.1920(?)....
And here is a third fantasy cover cancelled 10.12.1923 .... Note that all these three covers are addressed to some "Salemann" with different addresses but quite similar handwriting... Actually, a stamp dealer with the name of Victor Salemann did exist in Reval...!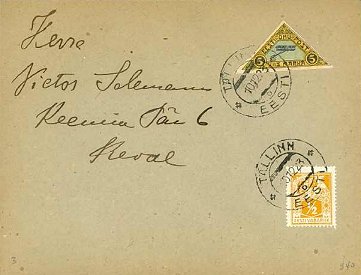 ---
This page made with contributions from M. Willems, Holland and T. Laehde, Sweden.
---
Source:

V. Hurt, E. Ojaste: Estonia - Philately - Postal History Handbook - Catalogue, 1986
---