... Estonian Air Mail Covers ...
Genuine or fake?
Part I: 1920 | Part II: 1923
The Estonian air mail originates from the so-called "Ice-flights" during the winter of 1920. Due to an exceptionally cold winter, the Gulf of Finland froze and made mail transport by ship impossible. The Estonian postal administration was forced to transport mail by air from Tallinn to Helsinki. The following Ice-flight mail periods are known [1]:
1923-02-09 to 03-29
1924-02-11 to 04-05
1928-02-02 to 03-31
Below I will show some genuine and fake covers with the second Estonian air mail stamps (Mi #41-45) in an attempt to educate both sellers and buyers somewhat... Most of the samples are taken from various internet auctions.
---
The 1923 Ice-flights were made by the Estonian Aeronaut Company (ASA), established in 1921. No additional air mail fee was required during this period, and no special markings are found on the mail.
The surcharged air mail provisionals Mi #41-45 were issued 1 October 1923 to cover supplementary postage for mail carried by the air lines Tallinn-Helsinki and Tallinn-Riga-Koenigsberg. In other words, these issues were used for regular air mail, NOT for the Ice-flights. Remainders of the first air mail stamp (Mi #14) were overprinted for this use. The additional air mail rates introduced 23 July 1923 were:
15 Mk for international post cards
20 Mk for each 20 gr. international letter
45 Mk for each 50 gr. international printed matter
Also domestic air mail rates were specified for this period, but there is no clear evidence that any regular inland air mail flights took place.
Note that regular postage was paid by regular stamps, so these air mail stamps never
occur alone on covers. Genuinely flown covers with correct postage are very scarce.
As far as I can tell, this is a genuine 1923 air mail cover. It was sent to the well-known collector Reginald P. Brook in New York from Tallinn 01.10.1923, which is actually a first day usage! The postal rate is 30 Marka; 15 M for international letter up to 15 grams plus 15 M for registration. This cover was sold on eBay February 2005 for USD 338!!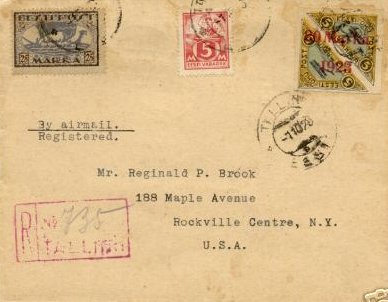 ---
Here's another interesting cover sold on eBay April 2005. At first glance, it might look very impressive, and the winning bid stopped at USD 115. However, it does not have any regular postage stamps, and is by all signs just another fantasy product.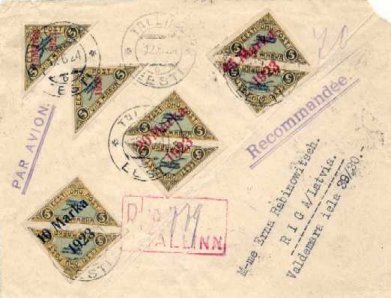 Even more interesting: One of the more observant viewers submitted a question to the seller that he actually published on the auction page:

"Q: Being registered it should have a receiving cds. Also Estonian airmail stamps covered the surcharge and were not permissable for the standard postage rate, that rate to be paid with regular stamps. Are there any other stamps on this? If not this is just a favour cancel or forgery item, either way never postally sent."

This is what the seller answered:

"A: Hello? hello? it's a front only. There's no back. You pays your money and you takes your chances. My dad was no expert when it came to wordwide, and especially Estonia!"

- Would YOU pay this man 115 USD...??


---
This cover to Oslo, Norway, from Tallinn 26.3.1924 has both regular and air mail stamps, but the rate of 30 M is not a correct international rate for an unregistered cover. It also looks a little too "clean" to have travelled in the mail. I am told this is one of several fake covers addressed to Harald Halvorsen of Oslo. It even has a fake receiving cancel from Oslo on the back. Watch out for similar covers on the market!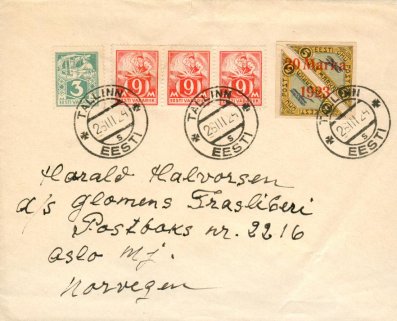 Scans by M. Siegumfeldt, Denmark
---
This FAKE air mail cover has been offered several times on eBay the last year. The cover is cancelled 7.12.23 which is within the period of validity of the provisional air mail stamps, but there are no stamps to cover the regular postal rate. The cover seems to be sent to a domestic address, but there are no records of any domestic air mail flights in this period [1]. And finally, we again recognize the name of Victor Salemann in Keemia tan. 6. "Siin" means "Here" (in Reval).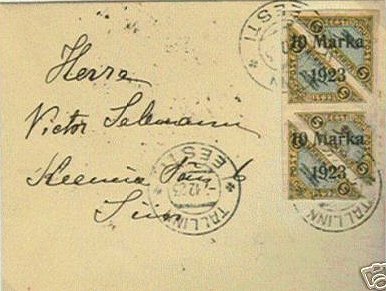 ---
The same conclusion applies to this almost identical cover, also addressed to Victor Salemann: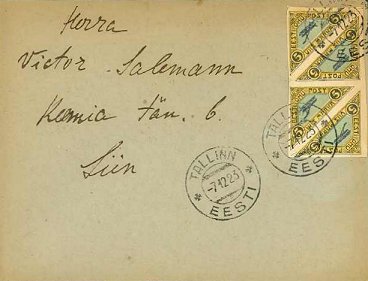 ---
During the 1924 Ice-flights regular air mail was marked with a cachet "Par Avion" and the fee was paid with the air mail stamps Mi #48-52. Ship mail made impossible by the ice conditions in the Gulf of Finland was, however, NOT subject to the air mail fee and was not marked with any special cachets or markings. Such mail can only be identified by the date on arrival cancels from Helsinki.
---
Here is an especially funny item... Someone was bald (or stupid?) enough to try to send a letter franked only with air mail stamps to the US. Obviously, the US postal clerk was aware of the status of these stamps, and wrote the following note on the letter: "Postage stamps not more in currency. Invalid postage stamps." The letter was then given a "T" cachet and a postage due fee of 10 cents (or 50?).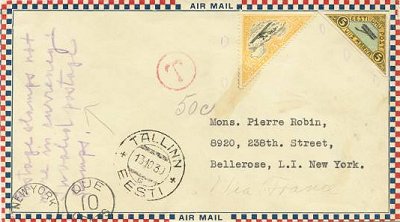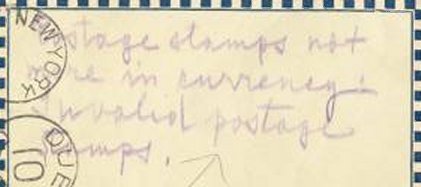 ---
This page made with contributions from M. Siegumfeldt, Denmark.
---
Source:

V. Hurt, E. Ojaste: Estonia - Philately - Postal History Handbook - Catalogue, 1986
---