- The Stamps and History of Bulgaria -
1879 - 1946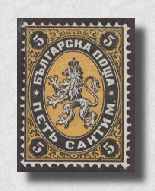 Bulgaria issued their first stamps in 1879. The first series of 5 stamps were printed in Russia. These stamps are the only Bulgarian issues with values in Centimes and Franc. From no. 6 (1881) is the value of 100 Stotinki = 1 Lew (lion) used.
---

- A philatelic journey through the history of Bulgaria -
Bulgaria has a very dramatic history that is often theme for their stamp issues. Based on historic information from my stamp album combined with scanned pictures of selected stamps from my own collection, I have made "A philatelic journey through the history of Bulgaria". This journey will give you a brief summary of the most important aspects of Bulgarian history up to 1946, illustrated with stamps and maps. The "journey" consists of 7 chronological chapters plus one additional chapter that presents important persons for the history of Bulgaria.
Enjoy your journey!
You will also find a detailed presentation of the themes 3-7 in my 80-page exhibit Bulgaria 1878-1946: National liberation and human tragedies!
---
- Bulgarian covers and cancels -
In this section you will find miscellaneous material about Bulgarian philately...


---
All corrections, comments or suggestions are appreciated!!!